Funding Legal Betting Accounts + Deposit Methods
Following the completion of the signup process and creating an account at an online sports betting site, real-money wagers can't be made until a bettors funds their account. Within the parameters of a sportsbook service department, there will be specific ways in which a bettor is able to deposit into an account. Different sportsbooks will have their own set number of options that account holders are able to use. In general terms, there is some consistency as far as what can be found, but the specifics such as limits, fees, and methods will be up to the betting site.
The prospect of this page talks about funding methods at a legal online sports betting site for bettors, with the American sports bettor in mind. Check out what types of methods are often found at these betting sites, and the process that is undertaken in order to get the show on the road to placing bet for money.
Outside of that, some of the commonly asked questions about depositing into a sportsbook such as safety and security are answered. Furthermore, specific examples of some of the best websites for legal sports betting in the U.S. are shown with funding options the primary topic.
Legal Sports Betting Deposit Options
You'll be happy to know that all of the deposit options for legal online sportsbooks are not obscure or difficult to go through. Some of them are extremely common, while others might just take an extra step to suffice the requirements in the process.
Credit Cards - Beginning with credit cards is the logical choice because so many of us are familiar with making an online purchase. Just like you would be shopping on the Internet, the same process applies to making a deposit at an online sportsbook. Think of it just as an Internet purchase, with the funds then applied to the bets that you make. For American bettors, the common credit and debit cards accepted are Visa and American Express, two of the most popular in the world. In some cases, MasterCard can be found as well. The deposit limits will be up to the sportsbook, though they meet different players big or small in most cases.
Wire Transfers - Sending money through a wire transfer is very easy and convenient. The ways to do this are through Western Union or a MoneyGram. Both of these are very common in the U.S., with thousands of hubs located all over. Local retail outlets and convenience stores have the capability to wire money. The process takes about 30 minutes for the wire to be sent and then ultimately received and deposited into your account by the sportsbook. Western Union and MoneyGram could have different limits even at the same sportsbook.
Money Order/Cashier's Check - Sending out a money order or a cashier's check can be an option as some legal sportsbooks as well. This won't be as fast as wiring money or through a credit card, but it is very reliable. Once the money order or cashier's check is received by the sportsbook customer service, it will immediately be deposited into the player's account. There could be fees on the end of the deposit method to consider as well, not from the sportsbook though. In some cases, they will be covered if a deposit exceeds a certain amount.
Prepaid/Gift Cards - This type of deposit method is similar to a credit card, because it will require a logo of a credit card that is accepted at the betting site. A Visa prepaid card or gift card is a very good example. This process will require the user to input the card number and the desired deposit amount.
Prepaid Vouchers - The purchase of an online can be used as a deposit option where accepted by sportsbooks. To do this, the type of voucher will be paid for at the site where the sportsbook tell the player to go. From there, the pin number or voucher number will be given which corresponds to the payment and amount of the voucher for the deposit.
Are These Methods Safe To Use When Depositing Into Sportsbooks?
Sports betting sites have security measures that ensure the protection of their players. Sports betting sites accepting real money wagers deal with financial transactions on a daily basis. The reputation of a sportsbook is very important, which places the No.1 emphasis on safety and security. The legal sports betting sites like those recommended below are the highest-rated ones in the industry for USA residents.
Bovada - 4.9% Fee For Debit + Credit Deposits But Has Very High Success Rate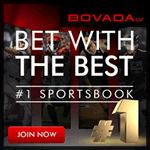 Deposit into Bovada utilizing three easy methods. Bovada offers a Visa credit and debit card option, which can be used to instantly fund a player's account. Outside of this option, two wire transfer methods exist. Defined as 'Rapid Transfer' + 'Money Transfer' by Bovada respectively, a Western Union or MoneyGram funds transfer is capable of depositing money into accounts.
BetOnline - Low Fees, Most Deposits Offer Instant Transfer, VIP Use MasterCard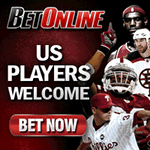 BetOnline has a few more deposit options than Bovada. They offer a Visa credit and debit option, but also throw in the prospect of an American Express deposit. That makes two credit card brands available. Western Union and a MoneyGram are accepted as well. But it doesn't stop there, with the opportunity to fund an account with a money order is also available.
Best Legal Online Sports Betting Sites for Deposits
50% Up To $250
50% Up To $1,000

NEW!

50% Up To $1,000

NEW!

50% New Member Bonus!
100% Up To $500

NEW!

50% Up To $520
The Stuff You Need To Know About Sportsbook Account Funding
Charges For Processing Player Deposits... There Can Be Fees For Funding Accounts
Depositing into a betting site will not result in a fee that is assessed by the site itself, however there could be various fees associated with the method of choice. This means that the way the funds are sent can have a fee attached. There are a couple of examples when this is evident. Sending a deposit through a wire transfer can have a service fee that accompanies it for example. The same can be said for depositing with an online voucher, where a service fee is assessed.
What's nice about many betting sites is that the fees can be covered if a deposit meets a certain requirement. This encourages the bettor to deposit a designated amount. The fees won't be waived by the betting site, but they can be covered once the deposit has been made into the player's account.
How Long Will It Take Before You Can Bet The Funds That Were Deposited...
The majority of deposit methods fund an account quickly. But there are different deposit times to be aware of. Betting sites will have information on the specific methods available at their location, which will give the best idea as to the timeframe of a deposit.
In general, the fastest deposit method is through the use of a credit card. This transaction is instant and will get players the desired amount of funds in their account immediately. Other methods like a wire transfer or a voucher are quite fast as well. A wire transfer will have the deposit in there within 30 minutes. As for a voucher, the extra step of having to purchase it first before inputting the pin will take a few minutes. But once that is squared away it will be an instant transfer of funds.
When betting sites accept methods such as cashier's checks and money orders, the time has to be factored in to send the deposit to the site. Upon the receipt of the funds the transfer is instant, but the time it takes to get there could be a few days to a few weeks.
Is There A Limit To How Much Or Little Money That Can Be Deposited? How Much?
Deposit limits are tackled from two different angles. The first is the amount that can be funded through each method. All betting sites will have limits restricting minimum and maximum deposits per method. The second angle is the number of deposits that can be made per day or per week. This could be specific to a deposit method, or it could be a general rule throughout the site regardless of the manner in which the deposit is made.
The important thing to remember here is that different betting sites will have their own stipulations when it concerns the limits for funding an account. Be sure that you are aware of those prior to creating an account with a site.