Bovada
- Bovada Is Legal For US Players
Legal sports betting for those living in the United States can easily be done online at Bovada Sportsbook. This betting site specializes in American sports odds, making them readily available to their account holders 24 hours a day, seven days a week. Bovada might not be based in the United States, but in terms of a U.S. sports betting site, this one has to be right at the top of the list. As such, Bovada hosts thousands of U.S. players who are able to access the daily betting lines that are available to be wagered on, fielding legal wagers for them in the process.

For those unfamiliar with the name Bovada, or for those who are inquiring a bit more information about the sportsbook, you've come to the right place. There are several aspects of Bovada that make it such a great sports betting community to participate in, of which we get into further below. Learn the details surrounding Bovada that makes it a highly recommended site to legally bet on sports for U.S. residents.
Are "ALL" U.S. Players Allowed At Bovada?
Actually no, not every U.S. resident is allowed to join Bovada. While they do accept users from just about every state in the U.S., there is the small exception of three states:
Those in New Jersey are no longer permitted to create new accounts on site; however, those players with previous accounts from those states prior to the new mandate were grandfathered in. And then there is Delaware, Maryland, and Nevada, where no new or existing accounts are permitted anymore. Aside from that though, Bovada accepts all other American players that meet the legal age to bet on site.
If you live in one of the affected states, please check our state-by-state guide to online betting.
Is Bovada legal for all US Players?
This is an important question to address. First, it's important to understand the difference between land-based betting and online sports betting. Different laws apply to the different genres of sports betting. In the case of Bovada's online betting site, they do not violate the federal laws in the U.S. because they do not exist in the U.S.
As for the player, they are not in violation of the law for one reason. The federal laws do not prohibit a bet from being made online to a site not operating in the U.S. Bovada doesn't operate in the United States, so it is therefore legal. The bottom line is that Bovada is legal for US players, but they still do not accept players from a few states including NY, Washington States, and NJ.
More About Bovada Sportsbook + USA Players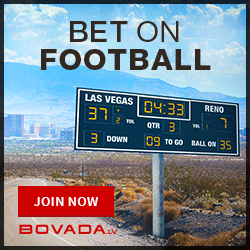 While Bovada is a legal option, American players can sometimes find is difficult to make deposits using certain methods thanks to certain online betting laws like the Unlawful Internet Gambling Enforcement Act. This act is the law preventing online gambling sites in the U.S. But the way it does it targets how monetary transactions for bets are process. In essence, they ban it. As such, some banks might still refuse to process a deposit for a gambling website, even if it is legal to do so.
Credit cards seem to have the biggest interruption in this department, but that is not always true. In most instances, credit cards go through just fine a Bovada. A Visa is the credit card option available at Bovada. Outside of this option though, a Western Union transfer, or a MoneyGram can be done as well.
Is Bovada Legit? - Can I Trust Them With My Money? - Will They Pay?
Bovada is absolutely a legitimate betting site to sign up for an account and wager at. The sportsbook has an incredible and popular reputation, ranking as one of the best in the industry around the world. Experience, combined with quality of betting lines and service is what Bovada thrives off of, and they do so well. Prospective bettors who choose to check out Bovada Sportsbook will be glad they did so. Right on site, even those without an account can view all of the betting odds, plus read information regarding the history of the site, security, and more.
Why You Should Choose Bovada For Online Betting...
While we talked a lot about the legality of online betting sites like Bovada and how American players are able to wager on site, let's not forget about the reason why people go to the site in the first place. It's all about the great betting odds which are offered there. Upon your first visit to Bovada, you will notice the vast selection that is available to those with an account there.
Lined down the left-hand side of the screen will be the sports and leagues that are available, and within those will be betting line after betting line with competitive payouts. It's hard to imagine a game or betting line you won't be able to find on site here.
This fact, coupled with the ease of their legal betting deposit methids, and the overall, quality experience of making a wager at Bovada, has made it a consumer's top choice for betting on anything.